Display
Visit the land of snow and ice accompanied by Nokian Tyres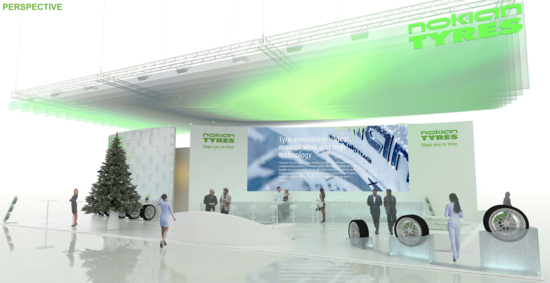 Nokian Tyres has prepared an unusual experience for you in the form of a unique display in the style of a landscape within the Arctic Circle. The Company's newest products will be presented to visitors in an environment of pure ice, bright white banks of snow and spectacular aurora borealis.
Finland, the home of Nokian Tyres
Finland, which is where Nokian Tyres has its roots, was our inspiration for the concept of the display. The ambiance of this northern country will present modern materials to visitors in combination with special light effects. The floor will be as white as snow, there will be a wall of ice, seats in the form of snow banks and the aurora borealis, which perfectly complements the spirit of a Finnish winter landscape. Visitors will also be able to see the newest Nokian Tyres models stylishly set into ice.
Nokian Tyres products and technologies
In spite of the pervasive ice at its stand, the Nokian Tyres Company has prepared a summary of key products and innovations for you to see in Essen. Chiefly Nokian WR A4, Nokian iLine and Nokian eLine2 tyres.
The modern technologies and procedures used during development and manufacture of Nokian Tyres are also reflected in creation of the display area. This is dominated by an enormous 30m2 LED screen and the aurora borealis, which is reflected onto special moving ceiling panels.
Accept an invitation from Nokian Tyres
We look forward to seeing you at our stand, in our country...at the ice bar.
Nokian Tyres, hall 3, stand 3B38