Bratislava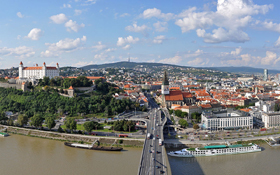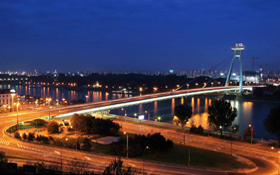 Bratislava is the capital of Slovakia and the city most frequently visited by tourists from all over the world. Even though it's one of the youngest European capitals, you can find here several sights from different historical periods. The most prominent sight and a symbol of the city's rich history is the Bratislava Castle. From its courtyard, you can enjoy a breathtaking view of the Old Town, but also of the neighbouring Austria and Hungary.
What is also worth visiting are the palaces of Hungarian nobles situated to the north of the Old Town. You can reach them via a subway on Hodžovo Náměstí, which serves as a reminder that metro was to be built in Bratislava, but nowadays there is only this subway. The seat of the Slovak president is also situated on Hodžovo Náměstí, with its beautiful garden accessible to the public.
Besides sights, museums and theatres, Bratislava can offer modern architecture, traditions, culture, art, delicious traditional food and drinks, shopping, and night life.
A few dozen metres from the Old Town down the Danube, around the new National Theatre building, there is a modern shopping area with a square dominated by a giant sculpture of the Slovak general, politician and astronomer Milan Rastislav Štefánik. This is where the Sheraton Hotel can be found, where the guests of the Nokian Tyres will be staying. On the grassy riverbank, you can almost touch the river while sitting in one of the many stylish restaurants.