Slovak cuisine
Traditional Slovak cuisine was shaped by the life in Slovak villages, where climate and geographical conditions were ideal for sheep raising. For centuries, most of the traditional dishes were vegetarian – usually made of potatoes, milk and dairy products. The best-known dishes are bryndzové halušky, živánska and cheeses, such as parenica, korbáčik, oštiepok or bryndza. Popular drinks are žinčica, beer, borovička, slivovice, and wine.
Halušky
Bryndzové halušky (potato dumplings with bryndza sheep cheese) is Slovak national dish. Served with fried bacon, it's a delicacy everyone should try. The recipe has been passed from one generation to another, and that's why it varies from region to region. In some regions, it is made from flour; however, in mountain regions or those where flour was expensive, potatoes were added to the batter. It's traditionally served with bryndza sheep cheese.
Bryndza
Soft salted sheep cheese made from crumbled sheep cheese. It has characteristic and notable flavour, but its production is rather lengthy. It is a very healthy probiotic dairy product. The history of bryndza goes back to the Middle Ages, more specifically to the 15th century. Workshops producing this treat were founded in great numbers in the 18th century.
Kapustnica
The best-known and most widespread Slovak soup is kapustnica or zelňačka – a soup made of sauerkraut – as sauerkraut has always been available on every corner in Slovakia. Besides sauerkraut, the traditional kapustnica is made of three types of meat (beef, pork, and smoked) and sausage. It is similar to the Czech valašská kyselica, which is served with mushrooms and potatoes besides sauerkraut and sausage.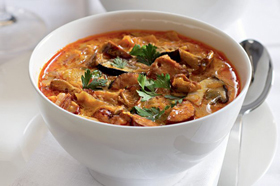 Borovička
If you want to try something stronger, try borovička – an alcoholic beverage made of juniper berries. It is one of the Slovak national drinks and it has a taste similar to that of dry gin. It is characterized by a white or golden colour and the minimum alcohol amount required by law in Slovakia is 37.5%. Borovička derives its name from the Slovak word for juniper – "borievka". Borovička harks back to the 16th century. Similar drinks are known in south Slavic countries such as brinjevec in Slovenia and kleka in Serbia.