Graz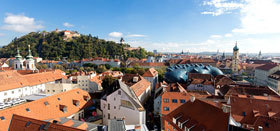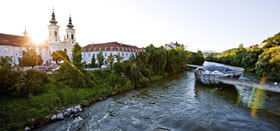 Graz is the capital of Styria and with a population of about 300 thousand it is the second-largest city in Austria after Vienna. The oldest settlement on the ground of the modern city of Graz dates back to prehistoric times – to the Copper Age. The Romans were briefly present here, but it was the Slavs who permanently settled the area in the 6th century establishing a fortified settlement – "Gradec".
The German name Graz first appears in records in 1128, under Babenberg rule. Under the rule of the Habsburgs, the city gained special privileges. A university was founded and many spectacular buildings were built here. The historic old town was added to the UNESCO World Heritage List in 1999. Graz is the birthplace of Ferdinand II, Holy Roman Emperor, King of Bohemia and a member of the House of Habsburg who ordered the execution of 27 leaders of the uprising of the Bohemian estates at the Prague Old Town Square in 1621.
Visitors can admire many unique sights in Graz. Considered the world's least conquerable fortress, the Schlossberg castle complex is situated on a hill at the Mur river in the very heart of the historic old town. Yet another symbol of the city is the Uhrturm (Clock Tower) with three bells. The tower got its present shape in 1560, but the original building dates back to the 13th century. What is interesting about the clock is that it features a long hand for the hours and a short hand for the minutes.
Modern sights include the Kunsthaus (house of modern art) right next to the Mur river. Designed by the British architects Peter Cook and Colin Fournier, it has both an organic shape (there are nostrils on the top of the building) and manifestations (producing sounds and light effects). The Murinsel – an artificial island on the Mur river in the form of a sea shell – was designed by the American artist Vito Acconci.
During 2003 Graz held the title of "European Capital of Culture". Discover Graz – an intersection of culture, art and history with the vibrant modern life.