Cascade Wellness & Lifestyle Resort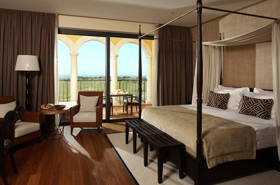 A unique location with a unique view - that is Cascade Wellness & Lifestyle Resort, which you can find right by one of the cliffs of the historical city of Lagos. Near the hotel, you can visit a smaller beach Praia Dona Ana, which ranks among fifty of the world's most beautiful beaches, or go see the lighthouse Ponta da Piedade with its enchanted view of the coast and the Atlantic Ocean. Cascade Resort ranks among the most luxurious five-star hotels in the entire area of Algarve.
The hotel itself is formed of four wings, whose decorations reflect Portuguese discovery expeditions on individual continents. Your visit will be all the more pleasing thanks to the rooms and apartments decorated in not only European style but also in African, Asian and South American style. For active rest and calming relaxation, you can use the outdoor pool with ocean view, the tennis court, golf course or hotel wellness center.
Another plus at this hotel is its acclaimed cuisine and wide selection of foods served throughout the day.
A shuttle bus line takes you to the city or you can take advantage of the taxi service.